Duckie DeMere
SCHOLARSHIP PROGRAM FOR LOCAL HIGH SCHOOL SENIORS
INVOLVED IN THE PERFORMING ARTS
Named in memory of Duckie DeMere, veteran Hawthorne actress, director and board member
Hawthorne Players is one of the oldest community theatre companies in the St. Louis area. It produces three plays each year at the Florissant Civic Center Theatre. In 2018 Hawthorne Players presented scholarships to four deserving North St. Louis County high school seniors involved in the performing arts.
These Duckie DeMere Scholarships, named after the late veteran Hawthorne actress and director, have been presented since 1992. One hundred students have received grants totaling over $58,000.  Announcement of the 2019 scholarship winners will be made at the Northwinds Concert at the Florissant Civic Center Theatre on May 4, 2019.
The purpose of these scholarships is to:
1) further community arts in general
2) encourage high school students to become involved in community theatre
3) increase youth involvement in Hawthorne Players
Applicants should have demonstrated talent, interest and effort in the performing arts, especially in the community.
Participation in Hawthorne Players and other community theatre productions will be considered.
2018 Duckie DeMere Scholarship Recipients
Evan Clark, Pattonvile H.S. Greg Hilmes, Trinity Catholic H.S. Larry Marsh Ruth Haux, Ritenour H.S.
Not pictured: Tony Merritt, McCluer H.S.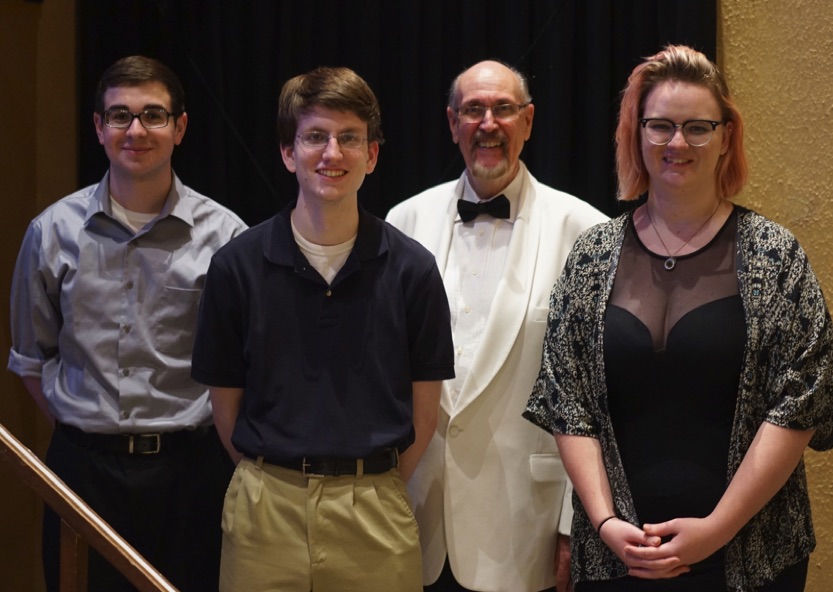 Applications for 2019
due by April 1
APPLICATION INFORMATION
Late applications will not be considered!
Interested North St. Louis County students should email a single PDF or WORD document by April 1, 2019 to hawthorneplayers@att.net that contains the following:
1) Your name, address and email address, phone, and high school
2) Information about your involvement in the performing arts both at school and in the community. (List productions, roles, crews, etc.)
3) A 250-word essay on the importance of the performing arts in the life of a community.
4) Your college/post high school plans
5) Also ask one high school theatre, music or other performing arts teacher to send a recommendation as a PDF document by April 1, 2019 to: hawthorneplayers@att.net