CAST
Elle Woods: Devon Shipley
Emmett: Sean Michael
Paulette: Elizabeth Breed Penny
Callahan: Ken Clark
Warner: Jackson Buhr
Vivienne: Stefanie Kluba
Brooke: Andrea Reed
Serena: Elizabeth Kelley
Pilar: Sophie Kluba
Margot: Kaitlin Nelke
Enid: Tamila Vulakh
Kyle/Dewey/Nikos: Ian McCreary
Kate: Chrissie Watkins
Leilani: Morgan Galloway
Aaron/Carlos: Stephen Chamineak
Sundeep Padamadan: Ronmal Mottley
Whitney: Marlee Wenski
Elle's Dad/Pforzheimer: John Robertson
Elle's Mom: Lindsey Ninmer
Winthrop: George Lewandowski
Lowell: Abraham Shaw
Delta Nu's: Angela Brandow, Mary Fox,
Lindsey Peters, Samantha Taplin
Featured Ensemble: Gayle Snow, Megan Rechtien,
Jazmine K. Wade, John Waller
Bruiser: Chewie Fox
Rufus: Meatball Vulakh
Tickets: $20 adults, $18 students and seniors and groups of six or more $15.
Call 314 921-5678
or order online HERE.
A fabulously fun award-winning musical based on the adored movie, Legally Blonde The Musical follows the transformation of Elle Woods as she tackles stereotypes and scandal in pursuit of her dreams. Action-packed and exploding with memorable songs and dynamic dances - this musical is so much fun, it should be illegal!
Elle Woods appears to have it all. Her life is turned upside down when her boyfriend Warner dumps her so he can attend Harvard Law. Determined to get him back, Elle ingeniously charms her way into the prestigious law school. While there, she struggles with peers, professors and her ex. With the support of some new friends, though, Elle quickly realizes her potential and sets out to prove herself to the world.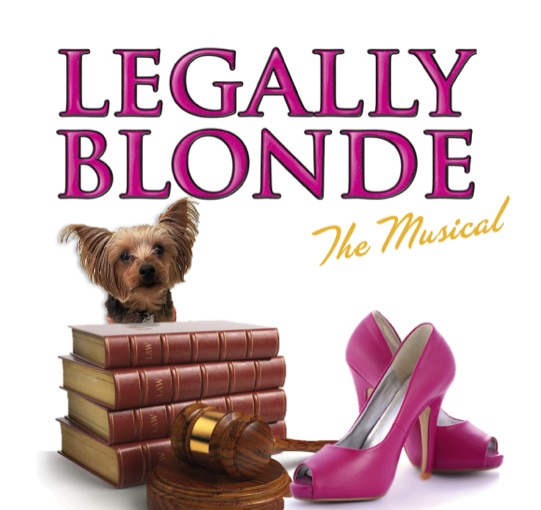 Music and Lyrics by 
Laurence O'Keefe and Nell Benjamin
Book by
Heather Hach
Based on the novel by Amanda Brown
and the Metro-Goldwyn-Mayer motion picture
Produced through special arrangement with Music Theatre International, New York, NY
July 27-August 5, 2018
Florissant Civic Center Theatre