You won't want to miss Hawthorne Players' production of this highly acclaimed musical! Set on the bare stage of a Broadway theater, A CHORUS LINE is centered on seventeen Broadway dancers auditioning for spots in the dancing chorus. With music by Marvin Hamilsch, lyrics by Edward Kleban, and a book by James Kirkwood, Jr. and Nicholas Dante, the original Broadway production was an unprecedented box office and critical hit, winning nine Tony Awards, in addition to the 1976 Pulitzer Prize for Drama.
Directed by MARK LULL
Assistant Director REGINA BRIGHT
Choreographer KIM KLICK
Music Director JACOB M. COWLEY
Stage Manager LORI ANN POTTS
Costumer TRACEY NEWCOMB
Set Design COLLEEN HENEGHAN
Light Design ERIC WENNLUND, DIANE WINGERTER
Sound Design ERIC WENNLUND, JERRY ANDERSON
Production Assistant STEVE ANDERSON
Rehearsal Accompanist KARLA CURRY
Production Photos KEN CLARK
ZACH KEN CLARK
LAURIE JENNA JARVIS
CASSIE ABIGAIL ALSMEYER
SHEILA CHELSIE JOHNSTON
VAL ANDREA REED
DIANA MIA MILLICAN
JUDY RACHEL WAGNER
KRISTINE KAYLIN PENNINGER
MAGGIE MELISSA FELPS
BEBE RACHEL MACKENZIE
CONNIE ALEX NEWCOMB
MIKE SCOTT DEGITZ-FRIES
RICHIE PAUL HERBERT PITTS
DON BRADY STIFF
Don't miss A CHORUS LINE!
Tickets on sale now!
Call 314 921-5678
PAUL AARON KAMPHOEFNER
MARK CALEB KELAHAN
GREG CAM BOPP
BOBBY DYLAN K. STANLEY
AL BRADLEY FRITZ
VICKI CADY BAILEY
LOIS ELEANOR MARSH
ALLISON MARY FOX
FRANK HAYDEN HAYES
PIT SINGERS:
KAY LOVE
GERRY LOVE
JOHN ROBERTSON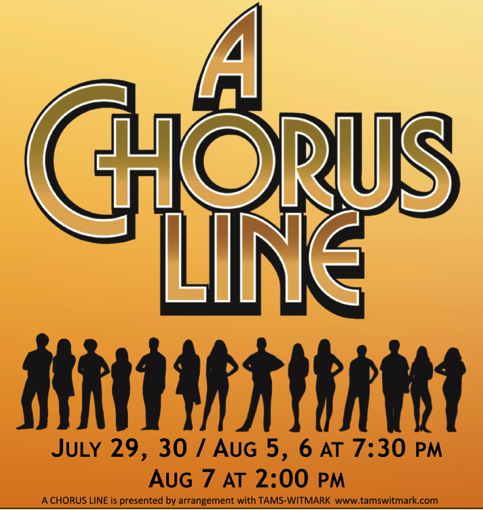 Adult tickets $25 Older adults and students $22